Dr.Nandana N, MD (D.V.L.), is a specialist in Medical and Aesthetic Dermatology.
She pursued her undergraduate from Bharati Vidyapeeth Medical College, Pune, and holds a Masters in MD (D.V.L.), from Annamalai University, Tamil Nadu. Dr.Nandana is backed by her extensive exposure to the field of Clinical Dermatology. She stands on the pedestal of work experience, learning and practise – under the tutelage of various doctors in Chennai and Bangalore.
Dr.Nandana keeps herself in step with new developments in the realms of Dermatology and Cosmetology, through constant training at national workshops on subjects of allied interests.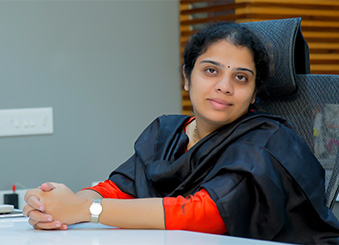 Her passion and interest towards Dermatology keep her up-to-date in the fields of Clinical Dermatology, latest advances in Cosmetology and Laser treatments.
In just about 9 years, Dr.Nandana has earned a name for herself as an expert who knows skin and hair care well.
She serves as a Consultant Dermatologist and Cosmetologist at her own facility in Vijayawada.

Skin & Hair Care

9 Years Experience

Well Expert

Own Facility